Top image credit: Two For Joy Photography 
Paddleboarding is now a pretty big deal and we are frequently propelling ourselves down the UK's rivers. We caught up with a couple of paddleboarding instructors to find out about the training side of things and have provided some events for your summer fix.
Stand Up Paddleboarding (SUP) originated from Hawaii, adapted from surfing, but with a paddle. SUP is said to be the fastest growing water sport, as it offers something for everyone – leisure, relaxation, personal challenge and adventure.
For Paul Hyman, owner of Active 360, and his business partner Sambit Mohapatra, they wanted to develop a sport from every angle (360 degrees), building and widening participation, improving coaching, running events, and so on. "We started off with two bases at Kew Bridge and Brentford Lock in London, until opportunities for more at Paddington and Putney came along," begins Hyman. "Over the 40 years I've been involved in water sports, I became more and more aware of how marine environments around the world are being degraded by careless consumption. I wanted to use standup paddleboarding (SUP) to raise awareness and encourage people to take action to change things for the better."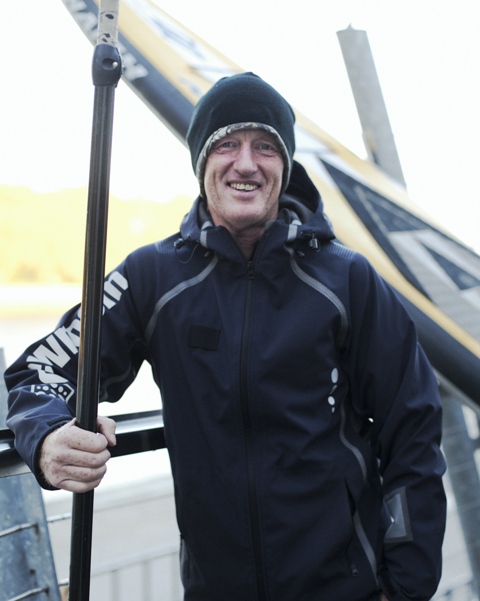 What inspires Hyman to continue to develop his company is introducing people to The Thames and other waterways, and to help protect London's water environments. His favourite places to paddle outside of the UK are Myanmar, India, Thailand, Slovenia, Sardinia and Greenland. Clearly, this is a sport for everyone – two of Hyman's paddlers are amputees and a few have been in recovery from broken backs and other major injuries.
"I felt incredibly lost when I first arrived in London. Active 360 helped me feel part of something, not just for a sport, but for a cause that is very important to me," concludes Hyman.
Hyman and his team run litter-picking paddleboarding sessions in a few locations in London, 'Pick & Paddle'. Participants use canoes or paddleboards and a short lesson is on offer if required for getting involved with the initiative. Together with the Plastic Ocean Festival, corporate organisations can now carry out their own clean-up events. For more information, visit the Canal & River Plastic Pollution Awareness Events brochure, active360.co.uk/files/Active360%20private%20clean-ups.pdf
Image caption: Paul Hyman 
SUP Explorer
Ben Kelly is an SUP enthusiast and even has a dedicated blog to document his travels. FitPro asked him what he enjoys most about paddleboarding. "Standup paddleboarding is all about sensations," said Kelly. "The feeling of cool water washing your bare toes as you paddle from the shore, or of flying as you ride high over reefs in clear seas, or of exhilaration as you surf your board back to the beach – the first time I saw paddleboarding I knew I had to try it. I joined a taster session in Poole and have been exploring and exercising on my own ever since. My favourite places to paddle are Sandbanks and Studland near Poole Harbour, and the River Cam in Cambridge. The greatest thing about SUP is that you can have fun on a puddle of water, doing spins, tricks and even SUP yoga! But when I'm not on my board, I ride a bike to maintain fitness. Cycling and SUP complement each other brilliantly – as well as strengthening the legs, both activities are great for the core and SUP also builds the upper body."
To read about Ben's travels, visit: https://benswaterytravels.wordpress.com/about/
Connect with nature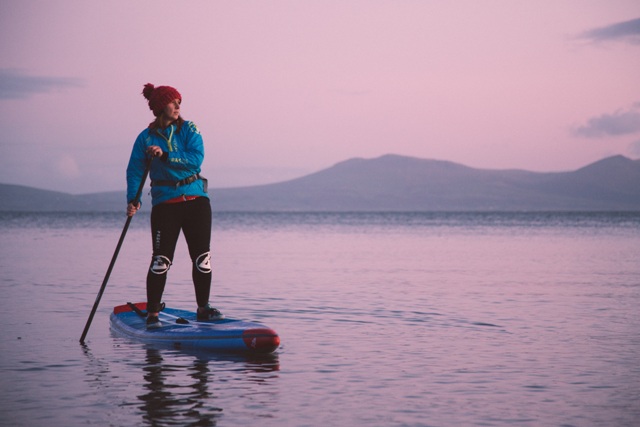 Image credit: James Chapman
After fifteen years of working long hours in London, Sian Sykes wanted a better balance in life – to reconnect with nature and to be closer to the sea and mountains.  "I changed the focus of my life and moved back home to North Wales. I now run a paddleboarding business, Psyched paddleboarding," begins Sykes. She continues, "I absolutely loved the paddleboarding experience; floating on water, a bird's eye view, the ability to get away from it all, to find inner peace and connect with nature."
Sykes tells us that there is such a variety of things you can do with the paddleboard – touring, racing, yoga, fitness, white water and surfing. You can paddle along canals, rivers, and the sea.  The SUP instructor enjoys exploring the coast of Wales; especially Anglesey and Pembrokeshire. "It has a fantastic stretch of stunning coastline and an abundance of marine and birdlife. There are complex waters, so you need to know what you're doing", says Sykes.
With regards to qualifications, Sykes is WSA (Water Skills Academy), ASI (Academy Surfers Institute) and British Canoeing (SUP module) qualified instructor.  She has had to provide a log book of her experience and attend training and continued development.  Sykes is also a regional rep for for Surfers Against Sewage –  her business is single use plastic free. Skyes, like Hyman, encourages her clients to do a mini beach clean and raise awareness about plastic pollution. SUP enthusiasts can also specialise in; SUP yoga, SUP Fitness, SUP Downwind and SUP Expedition.  If you join the Psyched paddle boarding team, you can experience night SUP and adventure SUP.  For more information, visit: https://www.psychedpaddleboarding.com
 Benefits of SUP according to Instructor, Sian Sykes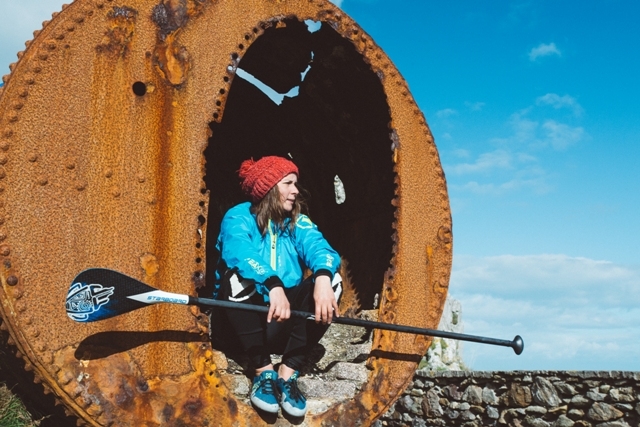 Image credit:: Two For Joy Photography LTD 
Improves balance: Actually standing up on the board requires a lot of core stability and leg strength in order to maintain a good balance and avoid falling into the water, SUP gives your core an excellent workout.
Great body workout: Almost every muscle in your body is used at some point during paddleboarding. Because of the balance required, leg muscles and core will be working extra hard to stabilise you, while the abdominal muscles, arms, back and shoulders are used to help you move the board in the water. So it's a fantastic full body workout!
Reduces stress: Water naturally relaxes the body and exercise helps to reduce stress. When you are out paddleboarding, you get into a meditative state by focusing on the rhythms of your stroke and being close to the water. It's a wonderful feeling being away from the hectic pace of daily life and being on the water. The stress you feel starts to melt away while you are out paddling.
Great cardio workout: If you spend enough time out on the water paddleboarding, you can get a great cardio workout! To push yourself, you can race your friends, or try interval training while paddling to make it a bit more challenging – a great way to get the heart rate up.
Improves your mood: Being out on the water is calming, and a great opportunity to reconnect with nature. It's amazing what bird and marine life you will see on your journey on a SUP. I've been fortunate to see; seals, porpoise and watch jelly fish elegantly float past me. It can have such a positive effect on your overall mental health and attitude.
Low impact: SUP is easy on the joints and ligaments.
Where to go for more information?
SUP international has a big community: https://www.sup-internationalmag.com/  and SUP boarder: https://www.supboardermag.com/   For events and education, visit the British Stand Up Paddleboarding Association, (BSUPA) https://www.bsupa.org.uk/
SUP dates for your diary
1-3 June – South West Paddle Fest, Cornwall
Held at Mount Edgcumbe House and Country Park, the South West Paddle Fest is about being in the great outdoors, camping, enjoying a paddle, enhancing your skills regardless of ability, and meeting new friends, all while having fun and raising money for charity.
From £35 for a day ticket. Under-5s and dogs go free.
2 June – SUPYoga Workshop, River Avon
Head to the Pershore Riverside Activities and Youth Centre for an SUPYoga Workshop on the beautiful River Avon. There will be an intro to SUP and yoga on a stable SUP in a tranquil, peaceful environment, provided by fully qualified instructors in both SUP and yoga. facebook.com/events/345477152630995/
7-8 July – SUP Open, London
The opening leg of the 2018 World Tour comes to London for the first time this summer, where a series of elite SUP races will take place on the River Thames and Royal Docks. There will also be races open to all levels, plus food stands, shopping, live music, and trial zones for kids and adults wanting to give SUP a go.
Entry to the event village is free.
10 September – Porpoise and Paddle, Anglesey
Explore the rugged coastline of Anglesey by SUP against the rugged backdrop of Snowdonia – a great opportunity to spot porpoises from the headland and learn about their way of life.
From £70 per person (a percentage of the proceeds goes to the North Wales Wildlife Trust), includes a picnic lunch.
psychedpaddleboarding.com/porpoise-paddleboard/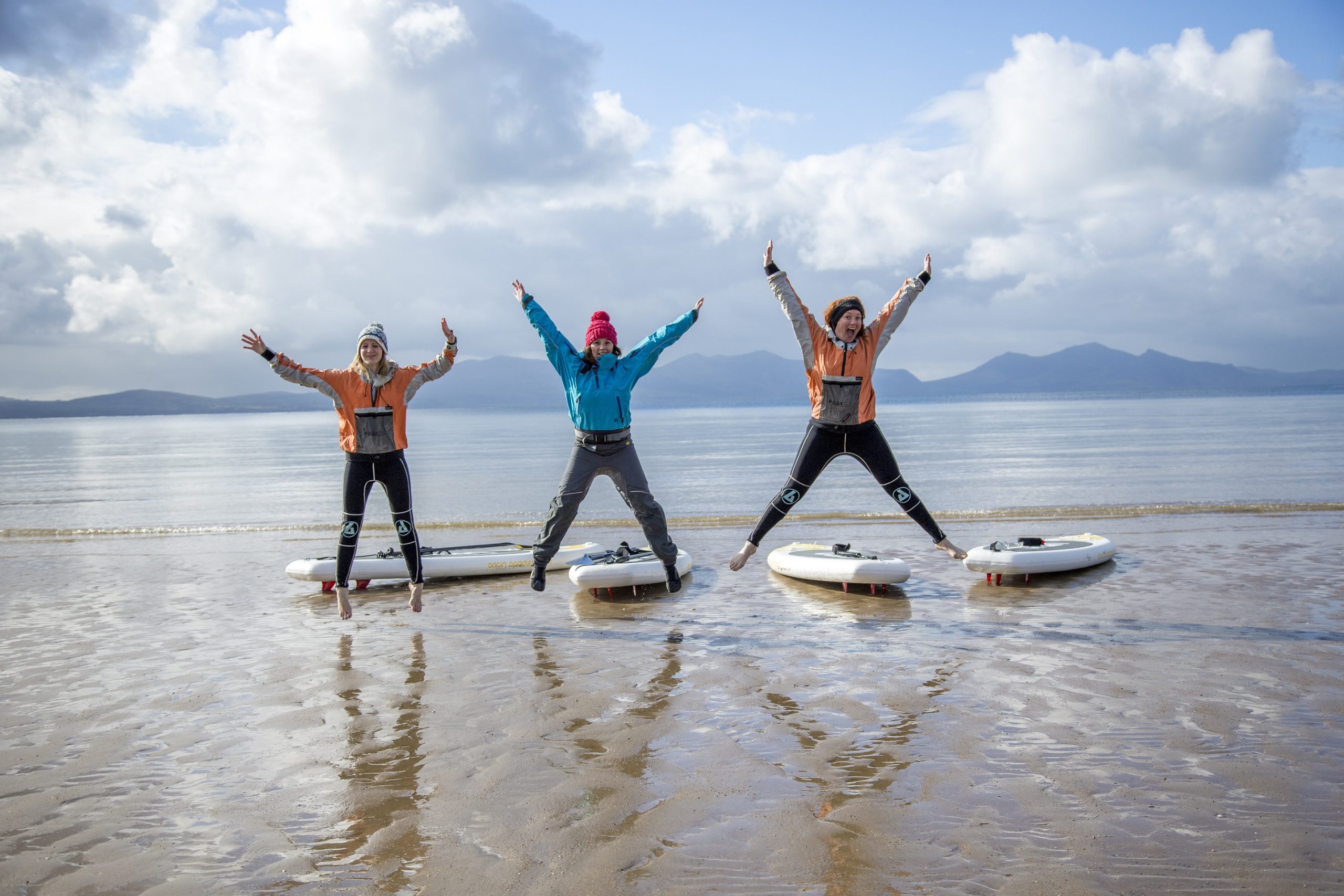 Above: Psyched Paddleboarding 
Image credit:: Two For Joy Photography LTD