When it comes to shaping the group exercise member experience, we should be creating a space where members feel welcomed, motivated and inspired to achieve their goals, says Faye Edwards.
The responsibility of a group exercise manager is to recognise the needs of group X members and provide them withan exceptional experience that encourages them to be consistent. It's also our job to ensure that the highest level of class experience is consistently delivered.
So, how do we do this? Initially, we need to encourage member feedback and ensure action based on that feedback is promptly taken. Quality control is also imperative; we need to know exactly what is being delivered in the studios. Although instructors will be qualified and skilled at what they do, it can happen that an instructor becomes stagnant; the fitness industry is forever evolving and it's the responsibility of the instructor to evolve with it. This includes ensuring instructors have a professional set-up, are ready and in the studio before members arrive, use up-to-date playlists and devices, are innovative with their programming and make positive connections with members.
We can't just rely on member feedback to find out if standards are being kept, as not every member will give feedback. If they are not happy with a class delivery, they simply won't return to that class. This is something that should never happen and, with quality control, it can be avoided.
So, how do we ensure that a high standard is held in group X? A group exercise manager should make it their priority to get to know every instructor on their schedule and to attend the classes themselves. At Third Space, we pride ourselves on feedback and development. We regularly access classes to ensure our core values are being delivered, which are reliability, innovation, passion and expertise.
Encouraging member engagement
To encourage group X member engagement, one of the criteria that needs to be met by each instructor is to be personable and to connect with each member. This is achieved through getting to know their names, getting to know their needs and goals, and creating a positive team environment, giving members a sense of belonging in a community.
We like to make things interactive for our members and we are huge fans of Myzone, a heartrate-tracking device. Members love using the Myzone belt, as it makes them accountable and it's a great way to measure fitness progress, along with providing a little healthy competition to keep them going. We have screens in the studio and gym so members can visually see their work input. We also run events and competitions as incentives to keep them motivated. This has been such a great tool to create team spirit and it's wonderful to see members engaging with other members and staff outside of the group X department.
From a business perspective, it's important to very closely monitor and measure all class statistics, including class occupancy, penetration, most popular disciplines, cost, etc. Analysing the year-on-year growth enables us to pre-plan and set budgets.
Getting the timetable right
Sometimes less is more and simplicity is key. There is no point overwhelming members with a huge array of different concepts and styles; as long as every important training component is offered on the timetable, then you can meet the needs of every member. We keep the different concepts to a minimum, as this takes away any confusion about what each class entails. There is little point having 10 different types of a HIIT concept.
The classes provided should do what they say on the tin, so well-thought-out concept names are important as these could make or break a member's decision to attend. It is also important to have consistency in the timings of sessions throughout the week, so that members can become familiar with the day-to-day schedule. Monitoring the analytics of class occupancy also ensures you can deliver what is most in demand from the members and it's important to take action when something is not working. If occupancy is low, something has to change; the stats don't lie, so these should be looked at on a daily basis and action taken, as it's not financially feasible to have empty classes.
Building a winning team
We pride ourselves on training and development. We regularly run education days, workshops and refreshers to give each instructor the opportunity to continue to up their skills, learn and grow. When recruiting instructors, it's so important for them to fully understand the brand and expectations. They need to receive information on the group X team structure, core values and insight into the brand's objectives. Again, feedback is key and a fundamental way of making continued progress, so they should be given feedback throughout the recruitment process and tools to support their growth.
While many clubs are great at showing appreciation to both employed and self-employed staff, which keeps everyone highly motivated, it's particularly important to remember the freelance instructors and show appreciation to them too. It's the nature of their job that they may not always have the opportunity to feel part of a team. We have instructor of the month, so the instructors who have the best performance will be praised for their efforts. We also have instructor of the year rewards. This is based on their performance, which includes consistency with teaching, support with cover and member feedback. The self-employed team is very much made to feel included in the business, as we appreciate that, with such a high penetration of group exercise, this is what supports member retention.
We have what we call our signature concepts, which are classes designed and curated by master trainers. In order for an instructor to teach a signature concept, they must attend and pass the training workshop, followed by quarterly refreshers to keep them up to date on the format and class delivery. Training and education are monitored by the master trainer, who will communicate with the instructors and coach them in their continued development.
Adhering to brand standards is a top priority to ensure a safe space is provided for both members and staff. In the group exercise department, we will use our in-house systems to log things like instructor insurance and log expiration dates, so we can keep on top of renewals. We also do regular in-house training, which is managed by the operations manager. This includes manual handling, fire safety, diversity and inclusion, DSE, infection prevention control and more.
Finally, we measure our success in group exercise by meeting our set targets. The main objective is simply to have a high penetration and ensure that operations are carried out at an exceptional standard, keeping the members happy and, thus, resulting in member retention.
This article previously featured in the Fitpro digital magazine.
Author Bio: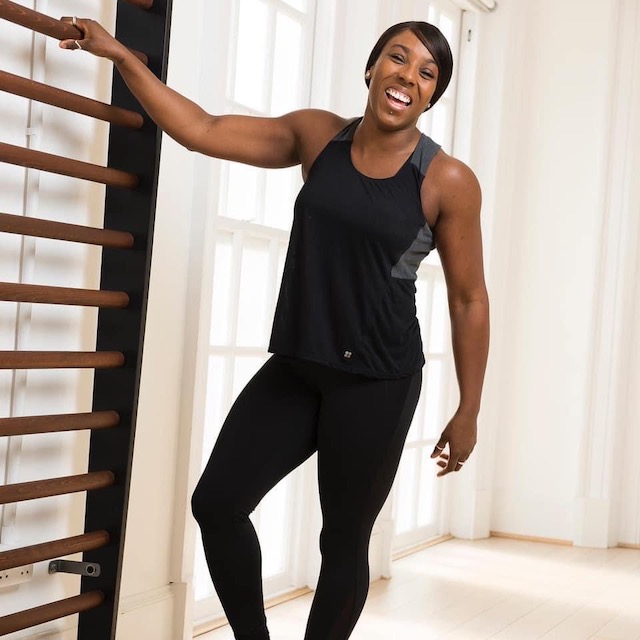 Celebrity trainer, founder of F.I.T Jam Dance, and Master Trainer at Johnson Digital Faye Edwards is renowned for her high energy and positive influence in the fitness space. With over 12 years' experience in the fitness industry Faye is passionate about empowering people through fitness and believes that every 'Body' should feel included.
Faye has a wide array of expertise and is passionate about creating innovative ways to make fitness accessible and experiential for all. Faye is former group exercise manager at Third Space, international fitness presenter, online trainer for Davina McCall's Own Your Goals app and Tru Connect and former body building competitor along with running her own fitness events.
Faye is most passionate about group exercise and loves to encourage her participants to always focus on the feeling! 'While attaining training goals takes hard work, let's also make fitness fun!'