Ali Longmate decided to wave goodbye to her London life and high-powered financial lawyer job to set up a fitness business in the Middle East. Olivia Hubbard chats to her about how to devise a time-restricted fitness session and discovers the reason behind the soaring popularity of kettlebells.
From courtroom to workout field
Fitness has always been a part of Ali Longmate's life. Her earliest memories are plucked from training sessions after school and, more recently, her rewarding completion of the Great North Run to raise pivotal funds for leukaemia research.
Despite the close proximity of her office gym, she states quite simply, "I am not really a gym lover." A bold statement perhaps, but the simple fact is that no spark was ignited for the personal trainer inside a gym space who centres her energies out in the open air.
Her impressive portfolio could get a lot of us to sit up, 'suit up' and take fitness note. She had reached the stage where her clocked working hours were becoming unpredictable – longing to find a solution to a peaking stressful situation, Longmate took control and decided to retrain as a fitness professional and personal trainer.
"Retraining as a fitness professional means I can do what I love every day. I feel very lucky for that," she says.
Her teaching focused on an audience that didn't have a lot of disposable time; she wanted to create a community, ensuring her clients felt included each time they attended one of her sessions. The ex-lawyer understood the restraints of not having enough disposable time and formulated sessions that took into account time limitation and community.
"I push each person to get the most out of each session," the fit pro begins. "Having worked as a fit pro in Doha for a while, I noticed that connections and friendships were being formed in my workout classes. I wanted to build something around the classes to help encourage that."

She adds, "Doha as an ex-pat community is quite transient. People tend to come for periods of two to five years and then leave. It is therefore important for people here to continue to build friendships. We all need interaction and support groups and I want to encourage that."
Client expectations
With the tag line 'Fitness for Every Body', Longmate crafts her workouts with everyone from the newcomer to experienced trainer in mind. Picture the soaring heat in the Middle East as Longmate says, "While I can move classes inside, for example during Ramadan, where we would be especially culturally sensitive and train indoors, the majority of sessions take place outside. With the humidity in the Middle East being as it is, I adapt classes to take that into account. For example, we would relocate to a shady area and take the cardio elements right down to concentrate on toning and resistance work while it is humid."
Due to many of her sessions involving kettlebells, this allows for much needed versatility and adaptability. "The kettlebell sessions are one hour in total. We have high-intensity interval training (HIIT) sessions where we work in pre-determined timed intervals and switch between kettlebell moves and bodyweight exercises.
"The focus in pure kettlebell sessions is on complete body conditioning, calorie torching and endurance."
Are kettlebells an effective calorie burner?
"Extremely!" responds Longmate – but she says we shouldn't take her word for it.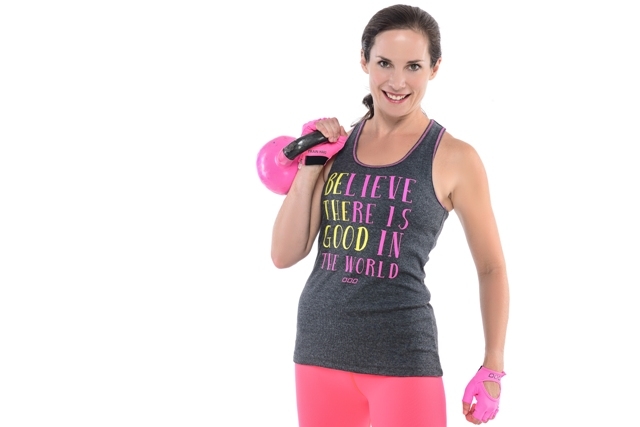 "The American Council on Exercise (ACE), America's leading authority on fitness, studied the benefits of kettlebell workouts. Results concluded that kettlebells provide a much higher-intensity workout than standard weight-training routines and offer superior results in a short amount of time."

She adds, "ACE's chief science officer Cedric Bryant PhD explains, "The use of kettlebells has grown immensely over the past few years, as they can offer a great bang for your buck when it comes to time spent exercising and quality of results. A person can easily burn several hundred calories in a brief period of time using these iron orbs, which makes them appealing for those looking for time-efficient results."
So, just before you get to experience the ultimate kettlebell workout – what does she have to say about ViPR?
"ViPR is another fantastic, functional and versatile training tool. I would love to bring this over to Doha and incorporate it into my clients' workouts too – how many could I fit in my suitcase?!"
The fitness professional leaves us with an inspiring thought: "Whatever the context of your job, however long you have done it for, you must never stop learning – don't risk arrogance and complacency. There is so much new research into movement, performance, nutrition and more all the time – it is important to keep on top of your game."
Ali Longmate's kettlebell workout – The Push-it Pyramid
Warm-up
Warm up for around 10 minutes.
Start with some gentle neck rolls from ear to shoulder, and then move on to some shoulder circles in both directions and hip circles in both directions.
Include some straight leg swings, high knees and butt kicks.
Then move on to some rope skipping or jumping jacks to raise your pulse. If you are outside, add in some gentle running or, inside, run up and down the stairs a few times!
2.  Let's hit it!
Once we're thoroughly warmed up (Ali style – do not skimp on this!) we're ready to go. We're going to count up in our reps and then count down again. Simple! You just have to keep your mind on the counting part.
2 swings
2 deadlifts (don't bend your knees when you lower the bell down)
2 standing chest pushes (elbows out away from your body and up just below shoulder height)
2 squat and pushes (or lose the push if it's too tough)
Lunges – 2 left, 2 right
2 bicep squats
2 ribbons
2 swings
Take a short break (don't lose momentum) and repeat from the top for four reps each, then for 6, 8 and 10, with a short break between each set. Then see how much further up the Push-It Pyramid you can go before coming back down in the same sequence, back down to two reps. Remember that perfect form is better than how many reps you get done, so if you need to stop and reset, or stop and take a break, please do.
How was that? Take a 2-3-minute break and let's do it again!
Once you're done, take a few minutes to cool down. You could walk around or cool down by hitting some slow crunches on the floor.
Stretch!
Team, it is so important to stretch. Please make sure you include each limb, your upper and lower back, your shoulders and neck.
Ali Longmate is the founder of Ali Fit Club (alifitclub.com) and can be found on Facebook at: Facebook.com/AliFitClub