Image credit: Richard Murgatroyd Photography
We couldn't ignore the flurry of free fitness initiatives that are helping to get more people active across the country. Olivia Hubbard experienced two London offerings that each place community spirit at the heart of what they do.
It's common knowledge that Londoners are a unique species. We mooch about with angry purpose, grunt at traffic hold-ups, and after years of eating one, we still can't make our own sandwich. We are funny folk and, quite frankly, sometimes as miserable as the English weather. Among the sullen grey faces and dank February air, there is a rainbow of happy folk – the crew who belong to a tribe called Project Awesome. I had stumbled across vibrant images online, namely a bearded man in little red shorts named Danny Bent, and was intrigued to find out more.
We will be exploring other community fitness projects across the UK in our Summer magazine. If you are involved in a free, community fitness initiative, we would love to hear from you. Get in touch at: social@fitpro.com or via social media: @fitpro_online
Project Awesome
The original captain, Danny Bent, describes Project Awesome as: "Free fitness, but not as you know it. It's super-loud, mega-colourful, and rammed full of positivity. It's a place for me to do all the things I love doing, which aren't normal societal things."
He adds: "This could either be booking my favourite band, The Turbans, to play for us, or making a 50m slide down Primrose Hill, or playing human-size 'hungry hippos'."
Stay with me.
The tribe meets for one hour at 6.30am on Mondays, Wednesdays and Fridays at a few locations across London. It's not just London-centric; Project Awesome is now making people smile in Bristol and Edinburgh, too. Published author and journalist Danny Bent is quite the character. He has always done lots of things that bring people together: One Run for Boston – raising $600K for the people affected by the Boston Marathon bombing; pogoing across Togo; cycling from London to India; plus he's the world record holder at Bog Snorkelling.
I made the commitment to attend the Wednesday City Hall session and set the alarm for 5am. On arrival, I couldn't believe the amount of energetic bodies and hugging on display. One American girl, who I had just sat in silence with on the underground, eagerly made her way towards me and gave me a bear hug. She said she recognised me from the Tube; would we have hugged on the train? Probably not. And the uniqueness of Project Awesome suddenly became apparent.
We began the session by jumping around in a huddled group, flinging our arms in the air and hugging. There is a lot of hugging. If you're impeccably British and only show affection to dogs and horses – you may have a problem. The newbies (that's me) then introduced ourselves with a burpee 'Haka' style introduction. Clap, jump, burpee, clap, GRRRRRRRRR! We then went on a short run over Tower Bridge and back to City Hall.
Things then got rather physical – we were told to look lovingly into another tribe member's eyes and pay them a compliment. "You have lovely eyes," I was told, "You have a lovely smile," I replied. Can you imagine if someone had said this on the Tube?! We then had to rub noses before shaking out the 'awkwardness'.
Next up, running up and down 55 concrete steps for 40 minutes or so – it was a lot harder than anticipated. We were simply doing what our bodies are designed to do in our natural environment with explosive, plyometric movements. You really had to pump the arms to make the step in one leap. The final step was completed in a group, holding hands together and shouting as we charged up the concrete. It was both empowering and bizarre.
We ran with coloured plastic balls in loops around City Hall, played rock, paper scissors to determine who would take on five 'seal' burpees, and went on to smash some push-ups and tricep dips. City workers looked on aghast as they witnessed human seals; limbs pressed against the city architecture, producing a high-pitched bark before springing back up. My favourite part of the session was the human 'hungry hippos'. My partner Pedro was rather speedy at wheel-barrowing in search of plastic balls while I gripped his ankles. Once the balls were found, I reversed and he flung them into the inflatable paddling pool.
The session ended with an optional coffee pit-stop before getting suited for the office. I spoke with Thomas Donohoe, who when he isn't pretending to be a seal, works in consulting. "I'd been living in London for a couple of years and was keen to try a new form of exercise that would help with meeting new people and fit in with my working hours during the week," he began.
"I play rugby at the weekends and run most days. I'd tried a few boot camps and gym classes but found them boring and impersonal. The workouts have been great for me in building strength and mobility from consistently running steps and hills, as well as bodyweight exercises, none of which I would do if I was training on my own. The community of people and the smiles they bring consistently makes it a highlight of my week," Tom cheerfully concluded.
So, what's next?
Danny Bent is currently organising a Running Relay around the world – he would love to see Project Awesome running in more cities across the UK and says that if Project Awesome becomes a lasting legacy, then that would be just brilliant. Visit the Project Awesome Facebook page to find out more: https://www.facebook.com/projectawesomelondon/
GoodGym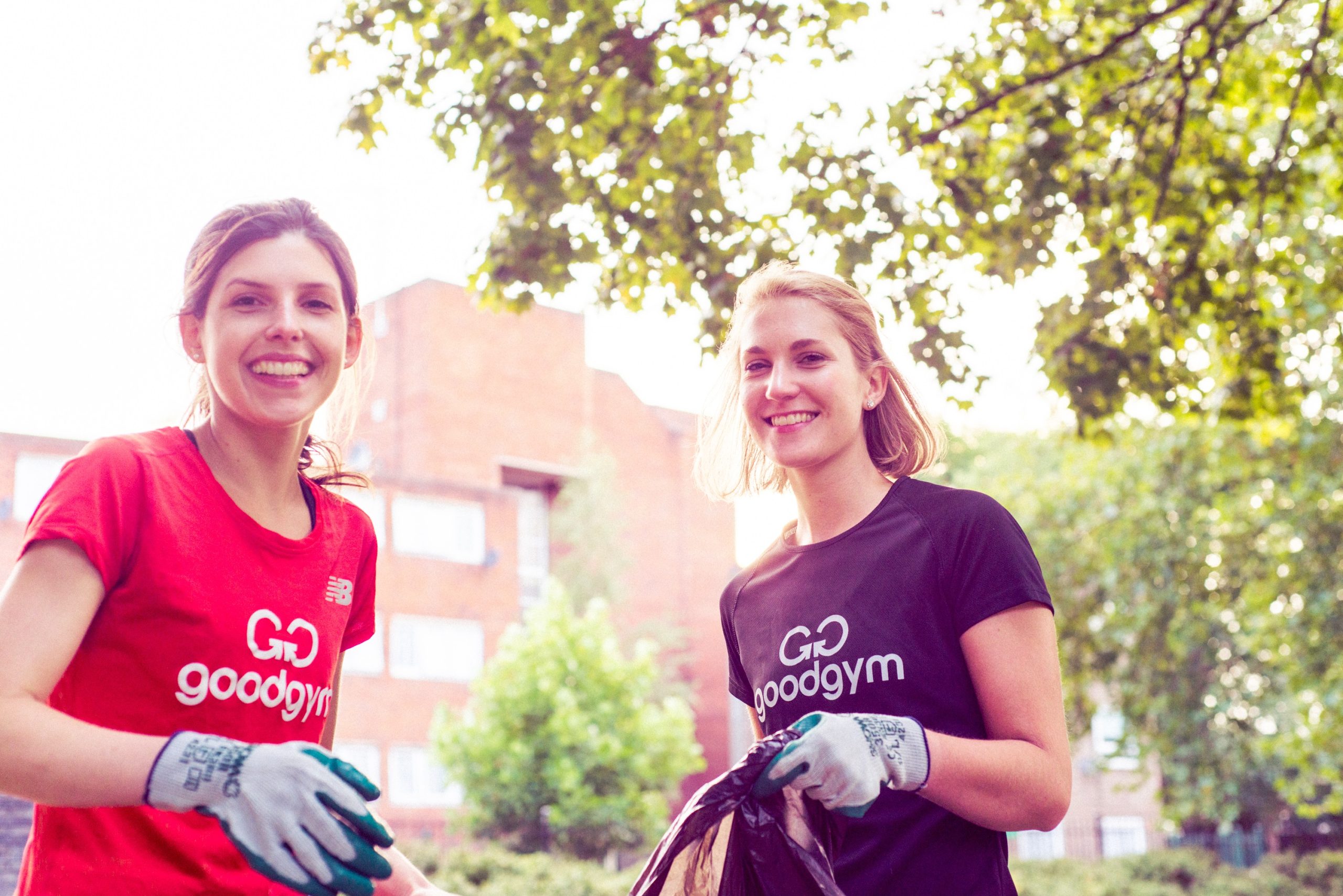 Twenty Hackney GoodGymers ran 3k to Abney Park Cemetery and back, to shovel and shift a cubic tonne of wood chippings to create 120m of pathway – and I was one of them. What's more, it was on 14 February, which made it one of my most memorable Valentine's evenings to date.
GoodGym began out of a frustration with normal gyms being a waste of energy and human potential. After one year of development, the project was submitted to the Social Innovation Camp in December 2008. So, what do they do?
They run in groups to undertake physical tasks for community organisations.
They run to make social visits to isolated older people who they call their 'coaches' because they motivate people to keep going.
They run missions for older people: clearing gardens; changing lightbulbs; and doing odd-jobs for people who struggle to do them alone.
GoodGym is said to be supported by some of the best PTs and running coaches in the UK. The coaches join the group sessions to help keep fitness and technique on track.
We met at E5 Bakehouse in London Fields and ran 3k at a steady pace to Abney Park Cemetery. There was plenty of time to have a chat with a few lovely people. There was also a broad running ability level with 'GoodGymers' at both the front and back, so you could comfortably run at your own pace. On arrival, we were greeted with 6 shovels, 18 wheelbarrows, 20 pairs of gloves and 2 rakes. I was on wheelbarrow duty and enjoyed walking at a rapid pace to dump wood chippings. For 45 minutes, we relayed back and forth and didn't stop for a moment, guided by head torches and our senses as we weaved around the tombstones. I suggest you don't ponder too much about Susan Hill's novel, A Woman in Black. If you become separated from the group, the shadows and undergrowth rustling will have your imagination running wild.
There isn't time to chat at length, it's a very 'efficient' session. You certainly feel like you're at work, so if you're expecting music, banter and to move at a snail's pace, this may not be for you. Yet everyone is encouraged throughout the session and you will meet positive and enthusiastic individuals. On the run back, the leaders really stepped it up a gear – I was able to push myself on the way back, sprinting the final 400m to home base. We finished with some static stretching before heading to catch the train – it eats up an hour and a half of your evening, yet I would choose cemetery gardening and a run, over festering in front of a TV screen any day. The only downside was the cemetery was located near to my house – so the run back was in the opposite direction, but why be a lone wolf when you can be a GoodGymer? Now all that's left to do is to buy the T-shirt and wear it proudly down the high street.
Joel Wiles, who ran my session, said, "What I love about GoodGym is helping runners to put in place techniques, training methods and confidence that change their relationship with running to a positive one, which helps them to achieve their personal running goals."
He added, "We have a Guardian Job listing that enables PTs to get involved with GoodGym. Our aim is to be in every city by 2018."
You can find out more about GoodGym here: https://www.goodgym.org/about