Physiotherapist Ros Glendinning introduces you to her physiotherapy-led, community-based dance fitness classes, helping participants to improve their balance and reduce their risk of falls.
As a community physiotherapist for the NHS, I work daily with adults who lead sedentary lifestyles, leading to falls or the fear of falling time and time again. Unfortunately, this inactivity often contributes to many health conditions, including obesity, cancer, heart disease, sarcopenia, cerebrovascular disorders, circulatory diseases and frailty. The falls and fear of falling follow.
Sadly, the cycle is a vicious one and motivation to change often remains low. Once inactivity becomes the norm, people are often too scared to leave their homes and engage in the outside world, and isolation, loneliness and a decline in strength and balance follows, and the risk of recurrent falls increases.
After witnessing the demise of so many patients too scared to engage, I have been passionate about breaking this cycle for years. In 2013, I set up CheeziFit, a physiotherapy-led dance fitness company based in Plymouth, England to help improve the emotional, cognitive, physical and social integration of each individual; ultimately, to reduce their risk of falling and improve their balance equally.
CheeziFit, as a dance programme, aims to improve the confidence, flexibility, postural stability, physical reaction time and cognitive performance of each individual, enabling them to engage in carefully choreographed dance routines in a safe, supportive environment. The community classes are versatile: no two classes are the same and are adjusted to support the physical limitations and abilities presented on each day.
To improve the balance of each individual, a crucial understanding of the factors affecting an individual's balance is garnered. Where appropriate, we assess each participant to see how and why their balance is affected. On initial arrival, a patient's past medical history will be checked, looking for diagnoses such as stroke, diabetes, hypertension, hypotension, orthopaedic surgeries or injuries. The vestibular system, muscle tone, strength, proprioception, kinaesthetic awareness and range of movement will all be observed and assessed too, isolating the problem and then specifically designing choreography to help. With such attention to detail, this in turn garners trust and improves the emotional and psychological wellbeing of each individual. Retention is high, classes have waiting lists and more instructors are being trained.
The choreography and music are key to motivation. Recognisable tunes selected by our clients are chosen; artists such as Queen, Elton John and Tina Turner are used to create bespoke, unusual, quirky choreography to challenge the senses, deflect from fear and allow for freedom and laughter.
How it works:
Range of movement
If balance is being affected by a reduced ankle dorsiflexion, for example, then we will create choreography using the heel-to-toe tapping movement from Irish dancing and boogie to the Dubliners' 'Irish Rover'. This helps to stimulate the dorsiflexion naturally and promotes a sense of fun – often practised at home!
Strength
If strength is the primary reason for reduced balance, such as weak quadriceps, exercises such as shallow squats to aid standing up from a chair will be incorporated to increase both functionality and strength. Whilst this can be a challenge if Rocky's 'Eye of the Tiger' is playing, the room bursts into laughter, deflecting the barriers and creating a fun sensory overload.
Fear
If confidence is the issue and a fear of mobilising without something or someone to hold onto or a mobility aid, we will gently introduce toe tapping holding onto a wall, leading to standing on one leg holding onto a chair, and then dancing in the middle of the room with the support of an instructor. 'Surfing USA' as the motivating music accompanies and, often, participants can be seen riding the waves on one leg in the sleepy halls of Plymouth, England.
Proprioception
Before a class we also offer the opportunity to test proprioception at each joint too, with the patient's eyes closed; if, from the assessment, we feel this is impacting on balance, we will include slow choreography to Frank Sinatra's 'Beyond the Sea', encouraging clients to stand on the spot and sway to the waves, close their eyes and focus on the movement of their joints and their spatial awareness.
Outcome measures
Before the class, we give the participants the opportunity to undergo a balance assessment, using evidenced-based practice to demonstrate the effectiveness of certain interventions and conducting specialised tests to assess participants' abilities pre and post interventions. These include The Berg Balance Scale and the Timed Up and Go Test.
While it is typical to lose certain aspects of our functional performance as we get older, this can be related to our decreased levels of activities. By including these ideas, you can improve posture, strength, confidence and balance and it is our job to support each person to improve the quality of their lives and reduce their risk of falling through fun, engaging, supportive community dance fitness.
Not getting our newsletter yet? The FitPro Edit is delivered to your inbox every 2 weeks – it's stacked full ✔️
Author Bio: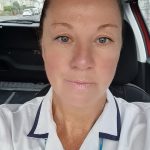 Ros Glendinning is a founder/instructor and serious Freddie Mercury fan! Ros is a chartered physiotherapist who specialises in dance rehabilitation, both physical and mental. Ros has an additional BA (Hons) 2.1 Degree in Dance. She is also an APPI Level 3 Pilates Instructor, HFE Level 3 Pilates Instructor and a qualified CYQ Level II Exercise to Music Fitness Instructor.
Ros is passionate about affordable, inclusive, friendly, non-competitive, community-orientated dance fitness classes with recognisable music to appeal to all adults. Ros is the national Pilates instructor for the military charity Help for Heroes, where she has worked voluntarily since 2015. She is also a community physiotherapist for the NHS.