Women's L/S Crew Neck Tee
£14.30
Log in to your FitPro.com account to get a 10% discount on all products.
Ships immediately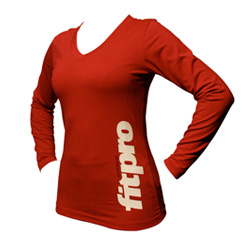 Women's L/S Crew Neck Tee
For the ultimate in comfort, our long-sleeved t-shirt is perfect for layering in the gym, or on your way to and from work. With a graphic FitPro logo midchest, this tee is made with 70% cotton for comfort and 30% lycra for a contoured fit.

Soft fabric reduces chafing

Regular fit perfect for all types of exercise

Long sleeves, crew neck design

Colours available: Red only
Customer reviews for Women's L/S Crew Neck Tee
You'll need to log in, to write a review. Register