Women's Crew Neck ViPR Top
£7.59
Log in to your FitPro.com account to get a 10% discount on all products.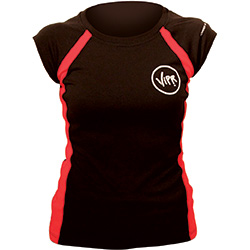 Women's Crew Neck ViPR Top
For serious style, there's the ViPR tee. With a graphic ViPR logo mid-chest, and the Powered by FitPro logo on the arm, this tee is the perfect addition to your fitness wardrobe.
Please note: tops are fitted and come up small.
100% Microfibre Polyester
Tight fit perfect for all types of exercise
Short-sleeved, crew neck design
Colours available: Black only
Customer reviews for Women's Crew Neck ViPR Top
You'll need to log in, to write a review. Register