Extreme Kettlebells DVD - Extreme Kettlebell Circuits
£15.99
Log in to your FitPro.com account to get a 10% discount on all products.
Ships immediately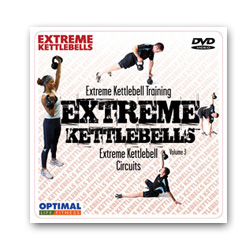 Extreme Kettlebells DVD - Extreme Kettlebell Circuits
Complexes and Circuits for a Total Body Workout
Kettlebells are an immensely versatile tool and can be used for a multitude of training applications. This DVD will give you a huge variety of exercises that can be used as part of challenging circuits and complexes. You'll learn how to piece together the exercises to achieve specific results.
Customer reviews for Extreme Kettlebells DVD - Extreme Kettlebell Circuits
You'll need to log in, to write a review. Register