£12.99
Log in to your FitPro.com account to get a 10% discount on all products.
Ships immediately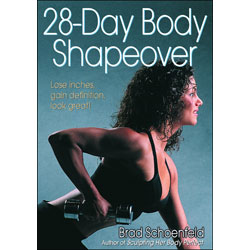 28-Day Body Shapeover
In just one month, make the mirror your best friend, by giving your body a shapeover!
28-Day Body Shapeover provides real, sustainable results with the fastest way to shape the body you've always wanted. You'll be taken step by step through four weeklong stages of workouts and menus that are set up to fit practically any lifestyle. The key is the structured yet highly flexible plan, which features concise workouts just 30 to 40 minutes in length, a choice between daily workouts or three workout days per week, a variety of exercises that can be performed at home or in the gym and menus that list everything you need to eat for 28 days and allow you to substitute your favourite foods.
Customer reviews for 28-Day Body Shapeover
You'll need to log in, to write a review. Register