When the FitPro team were offered some tasty and nutritious goodies they all jumped at the chance to try them out. Read what they had to say and grab yourself a 'tasty' discount code too.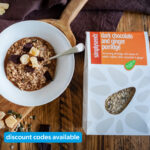 SimplySeedz – a fully vegan, 100% natural ingredients range of porridges and 'Great Taste' awarded snacking seeds. The porridge pots just need hot water so make for an ideal companion for walkers, hikers, long distance runners and more.
Darren – Really enjoyed this wholesome and homely apple and cinnamon porridge, with a twist of pumpkin and sunflower seeds. The pot tastes of natural goodness and is ideal for those who enjoy a hearty breakfast and healthy lifestyle. I love the simplicity of the five natural ingredients to include British grown woody oats with a hint of cinnamon and fruity pieces of apple with delicious pumpkin and sunflower seeds. It tastes like traditional classic porridge with extra nutrition. The consistency is thick and scrumptiously sticky and creates a surprisingly large portion that's completely satisfying. And nice and easy to prepare if you're always in a rush at breakfast time… just add hot water or milk, stir and leave for 2 minutes. Also, great to see that the packaging is fully recyclable, too.
Jane – If you love a mid-morning or afternoon snack then the Baked Pumpkin Seeds range , from Simplyseedz are fab. They come conveniently packaged in small 40gm tubs which they encourage you to recycle and are packed with flavour from Mediterranean Herb which won a well deserved Great Taste Award (out of the two I tried, it was my favourite) to Sea Salt & Black Pepper, Hot Chilli, Jalapeno and Kaffir Lime and Mixed Peppercorn ( I found this a little strong). The company also does convenient tubs of instant porridge, for diary free just add hot water and you're good to go but I added half and half and it was delish. I really liked that they have a very low natural sugar content and whilst I'm not a sweet tooth I actually added a little honey. Not the most inexpensive way to buy porridge but if you want a healthy snack that's packed with good nutrition and low sugar they hit the spot for on the go! They come in flavours: Apple & Cinnamon, Date & Apricot, Dark Chocolate & Ginger, Apricot & Cranberry and Simply Plain.
Discount code: FITPRO15 – 15% off all orders over £10 through the SIMPLYSEEDZ website
_____________________________________________________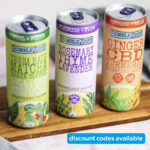 BumbleZest is a healthy drinks range created by husband and wife team Emily and Dan, which was dreamt up in their South London kitchen. You can now find them, in Whole Foods, As Nature Intended and Planet Organic, as well as online at Holland & Barrett, Selfridges & Co and Ocado.
Holly – Bumble Zest claims to be refreshingly unique – turns out they actually are. With flavourings that including green tea, charcoal, ginger, turmeric and lavender, these health shots and sparkling longer beverages are fun and tasty. I was a little dubious to try them having had no 'experience' with CBD and I had always imagined it to taste bitter or unpleasant. I do LOVE ginger however so the flavour combinations of Ginger and Tumeric were a winner for me, and these small shots are full of flavour bordering on being a little bit firey which I loved. The longer sparkling version of the same flavour was a fabulous combination of light spice and refreshing zest which poured over ice was actually a real little treat for the tastebuds. The products are all low calorie and low sugar and have fun additional nutritional benefits such as high protein content, micro minerals or vitamins which for most users would be a huge must. The big bonus was the glass and can packaging making it super sustainability friendly and if that's not enough bang for the buck – most of the products are also vegan friendly too. The collagen shot didn't instantly make me 5 years younger – but other than that I loved my little selection of Bumble Zest goodies!
Discount Code: FITPRO30 – 30% off your next order through the BUMBLEZEST website. Enter the code at checkout, not applicable to subscriptions, one time only and cannot be used in conjunction with any other offer.
Where to next? Should I go gluten free?