Air of success
It was emotional saying goodbye to Reem as she left for her trip. Three weeks. We had spent five or six sessions together a week – every single week – for months. I felt nervous, a sense of responsibility towards her success and, of course, immense pride.
She left at the end of March. There was limited communication with Reem but I followed her progress through the company's website.
Reem was away for three weeks. It was one of the hardest things she has ever done. Many people have dreams but how many make them happen? She did! Reem made it happen. She suffered with sickness and the exhaustion was, at times, unbearable – her inner strength and the people around her got her through it. The result for Reem was life changing. Her experience is one that only she (and those who have climbed to this remarkable place) can imagine.
Seeing Reem again was fantastic. She glowed. We met for coffee and it was clearly emotional for her to recount the experience. It remains personal and special to Reem – it will stay with her forever.

After a week's rest, we were back training again. Our emphasis this time was light conditioning and some aerobic work. We focused on resetting goals and mindset and looking forward to another challenge. Weeks passed and then Reem came out with it. "Can I climb Mount Kilimanjaro?"
"Yes of course you can," I said, "When?" Her response was, "Three months!"
So, off we went again: the same programme only harder. This time it was more of a challenge, as the heat was rising to 40-50°C. There was simply very little training outside, so we had more time on the treadmill and stair climbing.
Once again Reem set off excited, scared and emotional. She was in great shape. I knew she could do it and she did. It was a harder climb for her, albeit shorter at around two weeks, and this time there were times she felt her body giving up – but she didn't allow it. What creates this? I believe the visualisation techniques and the sheer desire to succeed got her to the top.
After my break away from the heat of the Qatar summer, I saw Reem again in September. She took a two-week break and, since then, we have been training three to five times a week.
I am waiting for the next goal. I have suggested a triathlon, although I'm slightly nervous that Reem would now leave me way behind!
Watch this space.
Having completed the climb to the Everest base camp, Reem commented to FitPro, "Achieving my success in Kilimanjaro was down to detailed physical preparation from Karen, in which we focused on intensive cardio, interval training and conditioning. In addition, I believe the mental preparation that I was given prior to my climb allowed me to focus on getting to the summit. During the seven-hour summit, I kept on reminding myself of the positive comments Karen gave me during training; it doesn't matter if I was the first to get to the top or the last, what mattered was getting there at my own pace – with this, I had an inner cheerleader within me that allowed me to get to the top comfortably and without any injuries."
This isn't the last we'll hear of Karen Porter – the fit pro will share her experience of when she had a pacemaker fitted six years ago – "probably as a result of overtraining", she says. Find out how she copes with this challenge – coming soon to the FitPro blog …
About Karen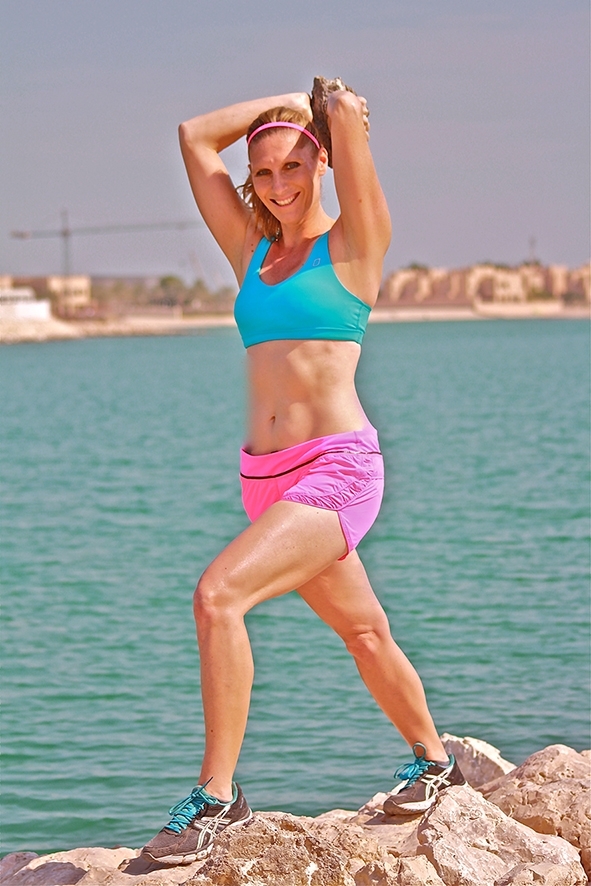 Karen Porter has over 15 years' experience in the fitness industry. In 2003, she helped open the Reebok Health Club in Canary Wharf, London, where she was fitness manager. For the last nine years, Karen has lived in Qatar, running her own business, Body&Health by Design. She has recently completed her LifeCoaching qualification and is currently completing her Juice Therapists qualification. bodyandhealthbydesign.com