How do you create 'entertainment' in your fitness classes? Olivia Hubbard headed to 1Rebel's amphitheatre this week to check out its new offering in Victoria, London. Indoor cycling instructor, Denise Allsopp also attended to experience the new concept.
There is no denying that 1Rebel's founders, Giles Dean and James Balfour, love taking risks – they know their market and they know that sexy sells, and by 'sexy' I mean seriously high spec – everything from the studio itself and its post-workout juices, to the industrial knobs on the showers, to the fluffy towels and deep plunging lockers – they really have thought of everything.
We're positioned relatively near the front and I'm transported back to York's student night  Wednesdays – banging tunes, check; sweaty bodies, check; smoke machine, check; raised podium shouting instruction, check. I'm told that the 3D sound system is one of only two in the world – Sydney Opera House bagged the other one; the Rebel army doesn't do things by halves.
I'm drenched with sweat after the class but my colleague looks decidedly unfrazzled. The class included a range of upper-body movements, which my colleague doesn't usually teach in her cycle classes – her opinion is that indoor cycling is a cardio class to strengthen legs and endurance and shouldn't drift from this. The instructor resembled a Duracell bunny – she did not falter, and encouraged every participant to climb harder and faster. With so much going on, we had to question how realistic it was for the instructor to challenge the participant skill and endurance on the bike.  The instructor jumped off her bike just once during the 45-minute session and she couldn't see the participants on the upper tier or far at the back. I appreciate that the instructor can't come off their bike too much – perhaps the addition of small downlights at the back could help.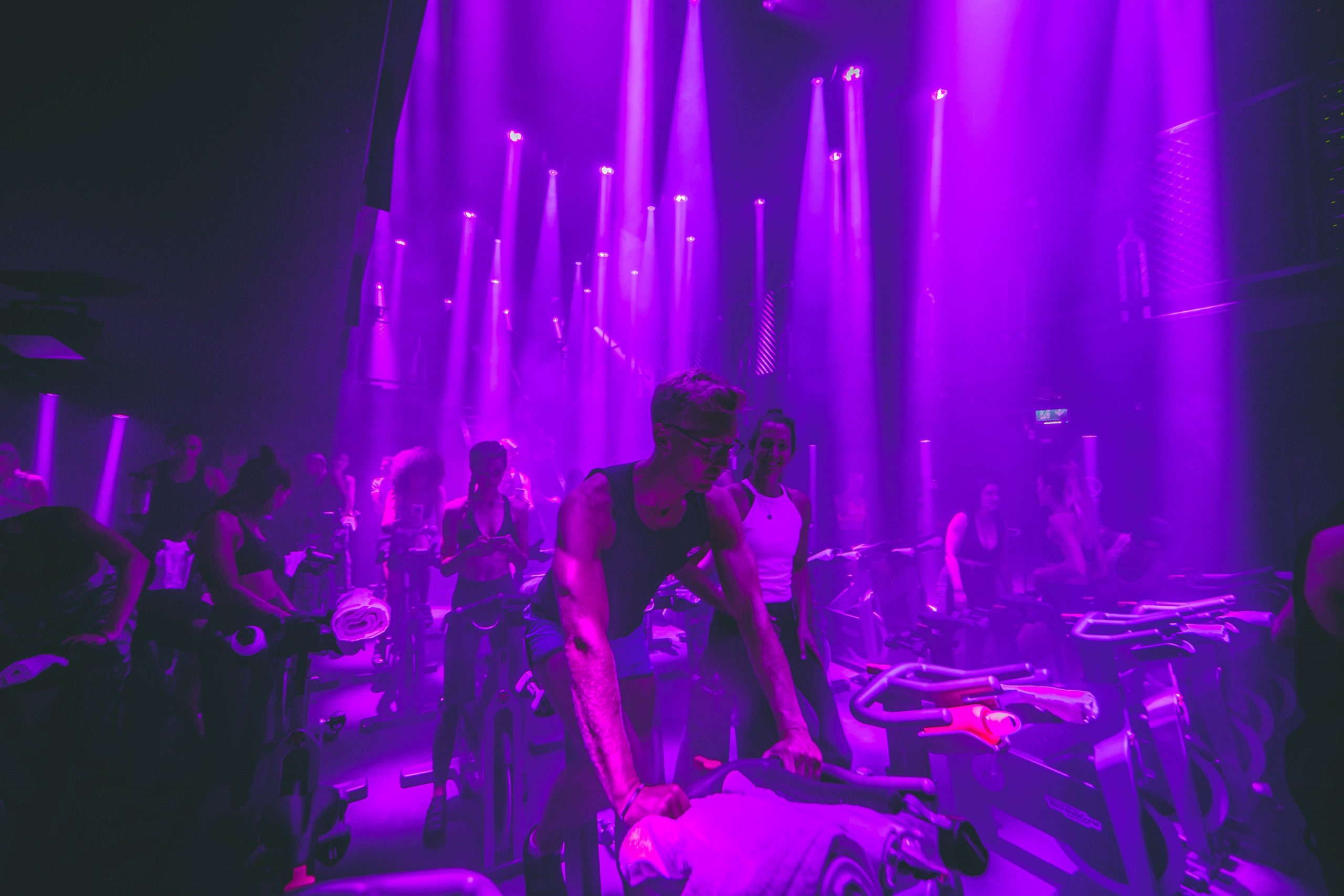 A couple of lads in my school once incorporated a smoke machine in our sixth form common room for our annual party – it was a relatively small space. I remember leaping and bounding into the smoke dressed as Olivia Newton John; I can recall the smell and the hazy faces even now. Is there a need for it while cycling? Some people may love it; we note it's an experience. Personally, I don't see the benefit, especially when breathing harder than normal. Imagine queuing outside a nightclub on a 'virgin cocktail night' with your stationary bike? It just wouldn't happen. Big brands are influencing, and it's the role of the influencer that's turning fitness on its head and pushing the boundaries. Yet, is it a sustainable model?
I praise the instructor's incredibly energetic personality and high-tempo choreography, and the atmosphere in the class was fantastic. Perhaps I'm cynical, but I think cycling shouldn't be a pantomime performance – it's good enough as it is, if it's taught with skill. The real test is the instructor's ability to engage and to create a 'real' experience – let's leave the smoke machines at the school disco…