You may have noticed the FitPro team love a chance to review healthy and delicious snacks – so here's two more…with a chance for YOU to win in our giveaway.
New VEGAN brand launched in the UK – BitesWeLove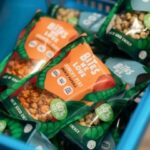 The core range features three flavours – all high in fibre, a source of plant protein and containing 60% less fat than comparable vegetable snacks and crisps as well as being vegan and palm-oil free. With 63% of people snacking daily, increasing to 76% for 18-34 year olds (data from Mintel), the standing pouches (100g) are excellent for health-driven consumers, vegans and those who fancy nibbling on wholesome snacks in between work, with a drink, or on-the-go.  They are available in three tasty flavours: Sea Salt & Black Pepper, Smoked Paprika and Sour Cream & Jalapeño
This is what the FitPro team had to say……
Jane: "How can a pea be so tasty and so crunchy? The Smoked Paprika 'Bites we love' have a subtle but moorish flavour. With fats, sugar and salt in check it's a great snack for in between classes and clients. The only improvement would be resealable packaging but that's being picky!"
Darren: "The Sour Cream & Jalapeno Crunchy Peas are my personal favorite – delicious, super healthy and will leave your taste buds wanting more! Made from plant-based ingredients the crunchy vegan roasted peas are high in fibre, low in fat and contain plant protein. This is the perfect snack and ticks all the boxes for me."
Teresa: "It's fair to say I am a fan – they are super delicious and whilst I loved the other two flavours, the Sea Salt & Black Pepper were the absolute winner for me. If you're wondering how can a pea be so delicious, believe me….they are pea-tastic!"
Oh, and lucky for YOU – we have 20 packets of BitesWeLove to giveaway – simply follow us on our Instagram and DM us the word YUMMYPEA before 25 September 2021.
---
Meet Berry Flirt – the game-changing instant smoothies.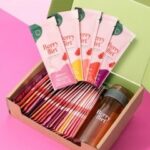 Providing a healthier alternative to pre-made smoothies found in supermarkets, Berry Flirt's single serve sachets offers 2 of your five-a-day with easy assembly – simply add 250ml water or milk, followed by the nutrient-packed powder, and shake vigorously for 20-30 seconds to make a juicy, fruity smoothie.
Sourcing fruits and veggies at the peak of ripeness, the freeze-dried smoothie powders contain on average half the amount of sugar and calories and twice more fibre than the branded smoothies millions drink as part of a meal deal every lunch time. Berry Flirt's carefully formulated smoothies are based purely on nutrition, and contain only organic nutrient-rich plants, with no added sugar, preservatives, sweeteners, added colours or flavour enhancers – just natural, delicious food to boost energy throughout the day.
The Berry Flirt range features five core flavours: Passion (based on banana, mango, pineapple); Radiance (based on strawberry, apple and Goji); and Harmony (Beetroot, raspberry and Ginger), Joy (Mango, Banana and Turmeric etc) and Wisdom (based on triple berries and apple) … All smoothie powders support healthy digestion, naturally fight fatigue, and are crammed with essential vitamins, minerals and fibre.
Here's what Jane had to say: "Being a 'smoothie for breakfast' girl I was the first one with my hand up when it came to reviewing the latest smoothie tastes from Berry flirt. Made of 100% of freeze-dried organic fruits & veggies, each of the single-use sachets is equivalent to about 180 g of fresh fruits and vegetables… so that counts as 2 of your 5 a day. You just add it to your favourite milk or water and shake. It comes in 5 flavours and uses delicious mixes of your fave berries, banana, apple, pineapple, chai seeds, turmeric and more depending on the flavours you choose. Buying a single sachet is £3.60 which makes an affordable super healthy breakfast option but if you purchase the bundles (which includes a free smoothie shaker) its an even more economical £2.79. Its great for vegans, there's no added sugar or additives and is GMO free."
Another great giveaway – we have 2 boxes (20 sachets) of Berry Flirt for you to win – just head over to our Instagram follow us and DM us the word YUMMYBERRY before 25 September 2021.