This issue's challenge was performed by Escape trainer Ritchie Januszek.
Ritchie says: "This challenge is a metabolic and anaerobic workout focusing on producing and controlling explosive rotational power from the core. It is great for raising the heart rate quickly with a fun, open chain movement, and it is especially suited to people participating in sports that require rotation, such as boxing and MMA."
THIS ISSUE'S CHALLENGE: THE TRX RIP PUNCH
EQUIPMENT NEEDED: TRX RIP TRAINER
TIME
Perform as many repetitions as possible in 40 seconds per arm.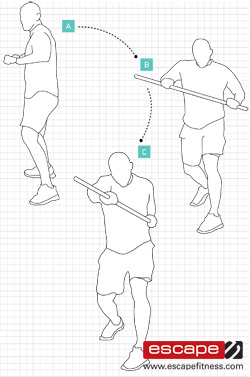 THE RIP PUNCH
To perform the Rip Punch, first grip the Rip in the mid-zone position with palms facing down and the right hand as your power hand. Position your body sideways to the anchor point. Begin with your power hand back towards the anchor point, keeping the left hand close to the left pec and with feet facing sideways, ensuring constant tension through the cord.
Simultaneously extend the power hand away from the anchor at chest height, rotating from the core and pivoting on the balls of the feet to finish in an offset stance facing away from the anchor point.
Maintaining control throughout the core, return to your start position and repeat for a total of 40 seconds.
After the first 40 seconds, take 10 seconds to switch sides and repeat for a further 40 seconds. The winner is the person who can achieve the highest number of total reps while displaying correct technique.
For more information about the Rip and Escape Fitness visit www.facebook.com/escapefitness
For more video tips and tuitions check out the FitPro YouTube channel at youtube.com/fitproltd
Tell us what you think. Email publish@fitpro.com